Oem Stainless steel mirror-polish casting food machine parts
| | |
| --- | --- |
| Precio unitario: | 10~30 USD |
| Cantidad de pedido mínima: | 500 Piece/Pieces |

| | |
| --- | --- |
| Paquete: | bubble bag+carton+wooden case |
| productividad: | 2000Ton per month |
| Marca: | OEM/Tianhui |
| transporte: | Ocean,Land,Air,Express,Express |
| Lugar de origen: | China |
| Capacidad de suministro: | 10000 Piece/Pieces per Month |
| Certificados : | TS16949/ISO9001 |
| Hafen: | Ningbo,Shanghai |
Descripción del producto
Product Description
Technical

Silicon Sol Casting +CNC Machine

Material

stainless steel , carbon steel , alloy steel

Material Grade

GB, ASTM , AISI , DIN , BS, JIS, NF

Weight

10g~50kg

Accuracy

casting tolerance CT6-CT7, machining tolerance ISO2768-mk

Surface Roughness

up to Ra0.7~Ra3.2

Applied software

ProE (.igs , .stp) , Auto CAD , PDF, Jpeg, Jpg, Png

Production capacity

more than 1500MT per year

Heat Treatment

anneal,quenching,normalizing,carburizing, polishing,

plating, painting

Machining Equipment

CNC center , CNC machines, turning machines,

drilling machines , milling machines, grinding machines

Measuring Tool

CMM , Projector, pneumatic micrometer, magnetic powder inspection, vernier caliper, depth caliper, micrometer,

pin gauge, thread gauge , height gauge

QC system

100% inspection before shipment

MOQ

500kg

Lead Time

sample fast , lot production depends on customers' request

Certification

ISO9001:2015

Payment Terms

T/T , L/C, D/P , D/A

Shipment Terms

FOB , CFR, CIF
Product Details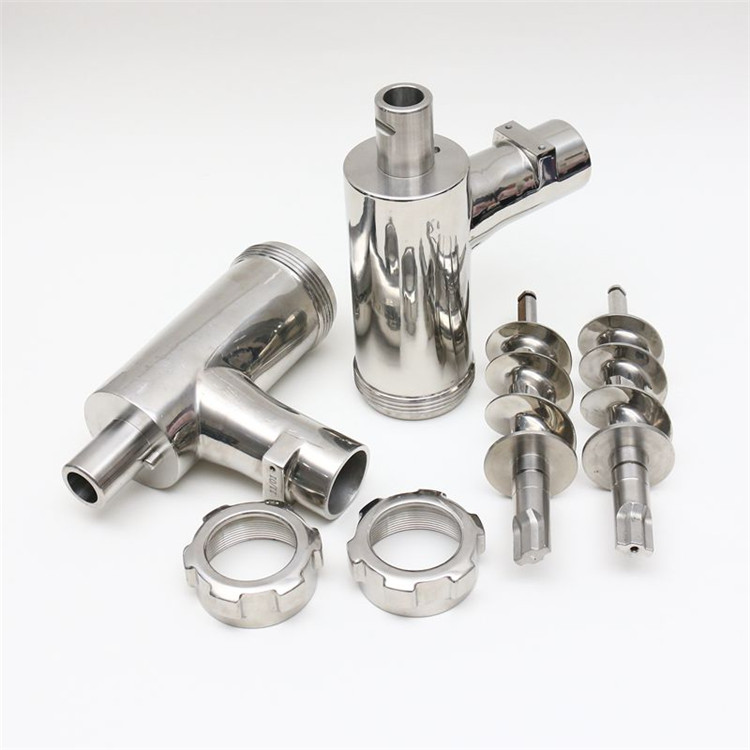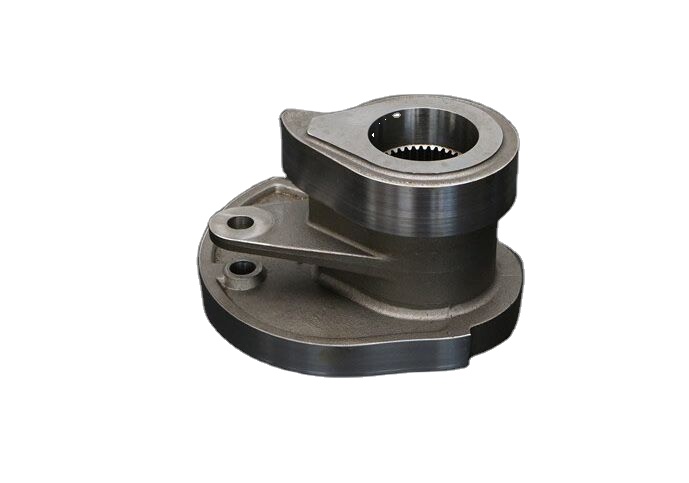 Investment Casting/Lost Wax Casting:
| | |
| --- | --- |
| 1.Mold and Pattern Making | A mold is built to customer-provided specifications. Cold wax is then injected into the mold to creat a wax pattern/prototype that will hold precise dimensional requirements in the final casting |
| 2. Pattern Assembly | The wax patterns are assembled onto the sprue. |
| 3. Dipping and Coating | Successive layers of ceramic and stucco are applied to the sprue assembly to form a hard shell. |
| 4. De-waxing and Firing | The molds are flash-fired to remove the wax and sprue materials and then heated to 1800° and placed on a sand bed, ready for pouring |
| 5. Casting | Molten metal, up to 3000°, is poured into the hollow mold and then cooled. |
| 6. Knockout | The ceramic shell is broken off, and the individual castings are cut away. |
| 7. Finishing | Excess metal is removed, surfaces are finished, and castings are heat treated. |
| 8. Testing and Inspection | Castings undergo thorough testing and inspection to ensure that they meet dimensional tolerances and specifications. |
| 9. Packing and Shipping | Castings are securely packaged for shipping to the customer. |
Investment casting also called silica sol casting, lost wax casting, precision casting. Material is stainless steel, carbon steel, alloy steel. Standard of GB, ASTM, AISI, DIN, BS, JIS, NF. Our main material grade is 1.4408, CF8, CF8M, 4140, SS304, SS316, 40Cr, 42CrMo, etc.
Advantages of Investment Casting:
1. Large application. Not limit to size, thickness and structure, all can produce by casting. Flexible mode of production. Our casting parts mainly use for Pump & Valve industry, agricultural machinery, construction machinery, food machinery, marine hardware, auto parts, etc.
2. A wide range of materials can be used. Extensive use of used metals and renewable resources.
3. Castings have certain dimensional accuracy, small processing margins, the processing time and the metal material are saved.
4. Low cost, good comprehensive economic performance. Low energy, material consumption and cost.
Why Us:
Ningbo Tianhui Machine Co., Ltd.
CNC machining process
Our company is a professional OEM / ODM CNC machining factory engaged in the development, production, sale and service. With 15sets cnc centers and 23 cncs , can precision cnc machine custom parts. We are SIEMENS global supplier for hundred kinds of metal parts for high voltage circuit breakers. Our goods application of pump and valve industry, auto parts, food machinery parts, agricultural machinery parts, construction machinery parts, marine hardware.
Our main material is stainless steel, carbon steel, alloy steel, aluminum, iron. We supply CNC machining service of bar or tube material, casting blanks, forging blanks. We manage heat treatment, plating, galvanic coating, anodizing, powder coating with our cooperation factories. Provide one stop service since drawing, mold design and development to goods manufacture, heat treatment, surface treatment, inspection and packing. We are located in Ningbo, with convenient transportation access. Dedicated to strict quality control and thoughtful customer service, our experienced staff members are always available to discuss your requirements and ensure full customer satisfaction. In recent years, our company has bought series of advance manufacturing and inspection equipment, including CNC centers, CMM, Image Measuring Instrument. In addition, we have obtained ISO 9001:2015 certification, also comply with 5S management system. In precondition of quality guarantee , we insist in process optimization, reduction of production cost , savings concession to customer. With consistent high praise from customers.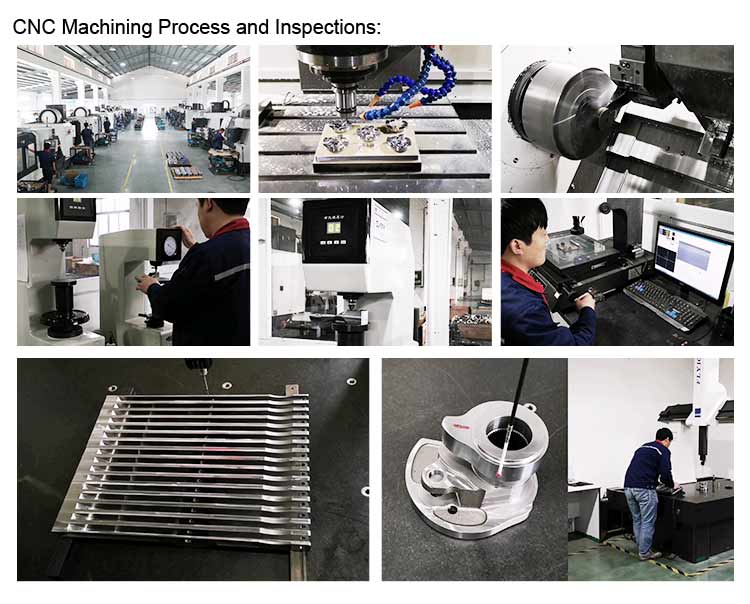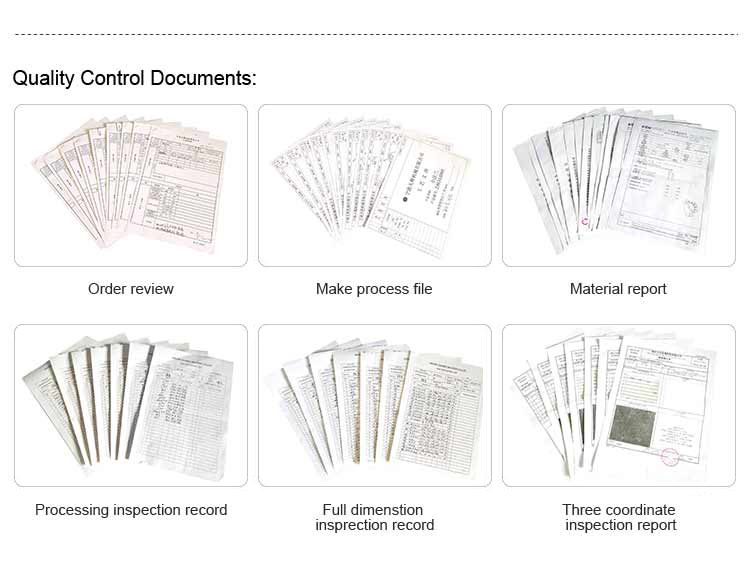 Q: Why choose China Ningbo Tianhui Machine Co.,Ltd? Any advantages?
A: The answer is Yes. There are 5 advantages.
(1) MUTUAL BENEFIT: Our offer will be reasonable, our price will be cheaper in the same quality.
(2) CUSTOMIZE: We can make the product as your request, Shape and Quality can meet your request.
(3) OEM: (1)Laser Print your Logo. (2)Design your packing box.
(4) MIX ORDER: We accept mix order, different model and small quantity order.
(5) AFTER SERVICE: Can reback the off-test product or ask back the payment when get the off-test goods and judged off-test by the third testing party .
Q: Can I order one piece for sample to test the quality?
A: Yes, We recommend to check the sample before order. Please order the sample in our retail store.
Q: May I have your catalogue and price list for trial order in MOQ quantity?
A: We mainly produce the product follow the customer drawings . And all our products were shown on alibaba, please have a detailed looking and choose the interested models in our site.
Q: If I want cheaper quality, can you produce?
A: Yes, just send us your quality details, such as the material, what cheaper parts instead etc, we will do that as your request and calculate the price.
Q: If I order big quantity, what's the good price?
A: Please send the details enquiry to us, such as the Item Number, Quantity for each item, Quality request, Logo, Payment Terms, Transport method, Discharge place etc. We will make the accurate quotation to you as soon as possible.
Packing Details: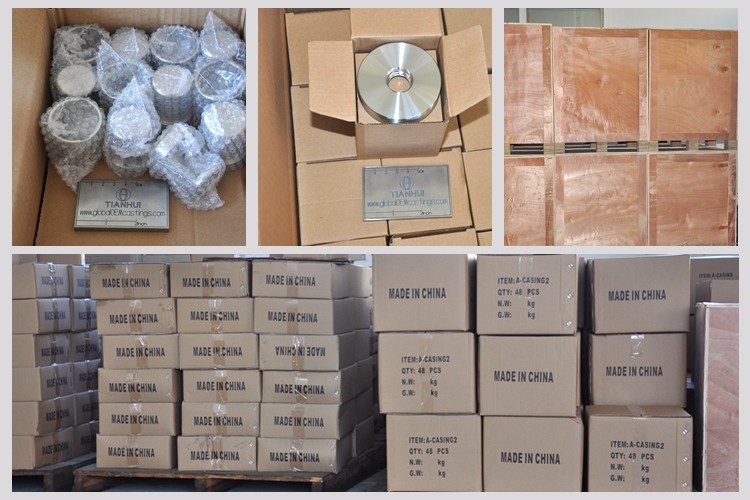 Ningbo Tianhui Machine Co., Ltd, establecida en 2007, es una fábrica profesional de mecanizado OEM / ODM CNC involucrada en el desarrollo, producción, venta y servicio. Somos un proveedor global de Siemens para cien tipos de piezas de metal para disyuntores de alto voltaje. Nuestra aplicación de productos de la industria de la bomba y las válvulas, autopartes, piezas de maquinaria de alimentos, piezas de maquinaria agrícola, piezas de maquinaria de construcción, hardware marino. Nuestro material principal es acero inoxidable, acero al carbono, acero de aleación, aluminio, hierro. Suministramos el servicio de mecanizado CNC de material de barra o tubo, fundición en blanco, forjando espacios en blanco. Gestionamos el tratamiento térmico, el revestimiento, el recubrimiento galvánico, la anodización, el recubrimiento en polvo con nuestras fábricas de cooperación. Proporcione un servicio de parada desde el dibujo, el diseño y el desarrollo de moho a la fabricación de productos, tratamiento térmico, tratamiento de superficie, inspección y embalaje. Estamos ubicados en Ningbo, con conveniente acceso de transporte. Dedicado al control de calidad estricto y un servicio al cliente reflexivo, nuestros miembros experimentados del personal siempre están disponibles para discutir sus requisitos y garantizar la satisfacción completa del cliente. En los últimos años, nuestra compañía ha comprado una serie de equipos de fabricación e inspección anticipados, incluidos centros CNC, CMM, instrumento de medición de imágenes. Además, hemos obtenido la certificación ISO 9001: 2015, también cumplen con el sistema de administración 5S.
En condición previa a la garantía de calidad, insistimos en la optimización de procesos, la reducción del costo de producción, la concesión de ahorro al cliente. Con alogios consistentes de los clientes.
Nombre de empresa: Tianhui Machine Co.,Ltd
Representante: Hui Luo
Producto / Servicio: Mecanizado CNC , Mecanizado personalizado , Casting de acero inoxidable , Casting de precisión , Moldeo en arena , Casting de inversión
Capital (Million US $): 1,000,000RMB
Año de fundación: 2007
Facturación Annual: US$2.5 Million - US$5 Million
Porcentaje de exportación: 71% - 80%
Volumen Total de Compras anual (Millones de dólares EE.UU.): US$1 Million - US$2.5 Million
Número de Líneas de Producción: 20
Número de empleados para investigación y desarrollo: 5 -10 People
Número de empleados para control de calidad: 5 -10 People
Servicio del OEM proporcionado: yes
Tamaño de la fábrica (metros cuadrados): 1,000-3,000 square meters
Ubicación de la fábrica: No. 12, Hongxi Industrial Zone, Chunhu Town, Fenghua District, Ningbo City, Zhejiang Province
Persona de Contacto: Ms. SU LAN RONG
Número de Teléfono: +86-0574-86178686